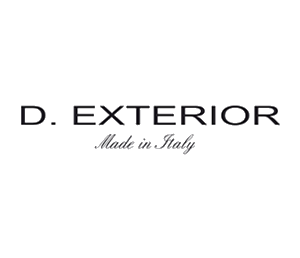 D.Exterior
For over 20 years the combination of yarns, textures and creative craftsmanship have created a D.EXTERIOR total look in high fashion knitting.
Everything starts from the quality of the thread. Great design, attention to detail, and first class quality control are the ingredients of the success of this MADE IN ITALY label.
The result of rigorous research and garment refinement has made D.EXTERIOR a recognized luxury brand, worldwide. The name D.EXTERIOR  guarantees the finest quality and elegance.
The company is the guarantor of Made in Italy and upholds the FAIR TRADE philosophy, selecting 100% Italian raw materials and craftsmanship. Also Oriental silks are treated and dyed in Italy to improve performance and quality.
Each piece has its origins in San Zeno Naviglio (Brescia, Italy), headquarters of the company. A number of artisan workshops are involved in the production of every garment, and all of them are within 30 km of Brescia.
From dresses to cardigans and knitted coats, everything ends where it began: at the premises where the control of each item passes and where the finishing is handmade.