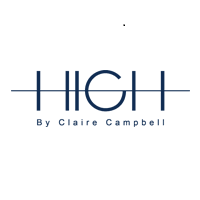 HIGH by Claire Campbell
HIGH was founded in 2007 by the British designer Claire Campbell.  The brand was born out of a passionately held belief that clothes should be useful, beautiful and desirable. Every HIGH by Claire Campbell garment is meticulously designed with a three-dimensional approach, ensuring that every profile of the garment is perfectly crafted.  It is this unique way of designing that has led to HIGH clothing to be known as "everyday Couture". 
The brand shows an enduring passion for historical styles, textiles and techniques whilst simultaneously embracing the latest fabric technology and manufacturing techniques.  The overarching principle to each collection is the understanding that looking and feeling good is integral to every woman's sense of well-being. 
HIGH by Claire Campbell designs are innovative and distinctive whilst the garments themselves are intricately made with exceptional attention to detail.   Expect to see contrasting textures, beautiful fabrics, bold asymmetric hems and precise, form-flattering tailoring styled with lace borders, embroidered edges and contrast bindings which all work together to create an ultra-feminine silhouette.  Subtle flamboyance characterises the collections which feature complementary garments that will allow you to experiment with volume and layering for a fun, playful look.
As well as the main collection, HIGH also delivers subsidiary collections which are designed to complement each other.  High BLUE features natural fabrics and denim in every shade of blue, HIGH KNIT creates modern knitwear in bold shapes, HIGH USE is practical, useful and playful clothing inspired by workwear, whilst HIGH TECH is high performance, low maintenance leisurewear.
HIGH by Claire Campbell is a brand which eschews transient trends in favour of contemporary classic designs which offer strong, sculptural silhouettes for the ultimate in sophisticated chic.  It succeeds in creating functional yet sophisticated everyday casual couture clothes which appeal to confident, intelligent women who know their own style.