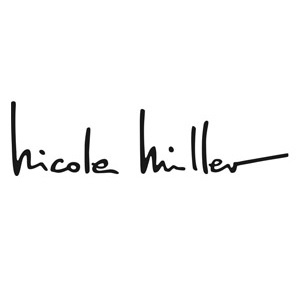 Nicole Miller
With a penchant for mid-20th century architecture and contemporary art, New York-based designer Nicole Miller imbues her eponymous collections with a distinctly artistic aesthetic. 
She studied Apparel Design at the Rhode Island School of Design and then furthered her education in Paris at L'Ecole de la Chambre Syndicale de la Haute Couture Parisienne where she studied classical couture and learnt to drape fabric.  This grounding in the skilful manipulation of fabric has become a signature of her designs.
Launched in 1982, the label rapidly went from strength to strength and Nicole Miller opened her first boutique in 1986 on Madison Avenue.  Her style is edgy and irreverent, downtown grit combined with uptown chic.  The label has an emphasis on signature graphic prints, luxe textures and unique detailing which combine to create striking silhouettes offering elegance with a hint of rebellion.
Miller is a designer who delights in assemblage, mixing and matching patterns and styles to create fabulous ready to wear outfits.  Collections combining French influence with boho chic and a dash of Japanese elegance come as no surprise.  Expect to see a variety of garments from asymmetrical skirts and ruched dresses to delicate slips and cropped jumpsuits.  Nicole Miller connects with the way women style themselves and, as such, she understands the beauty of pairing a slinky slip dress with a boyfriend blouse, or a jean jacket layered atop a long skirt. 
Nicole Miller is a brand that also has a strong sustainability message at its heart.  Its beautifully crafted collections together with its ethical credentials prove an irresistible combination to the likes of Angelina Jolie, Joss Stone, Jennifer Aniston, Beyoncé, Blake Lively and Eva Longoria who are regularly seen in Nicole Miller clothes.