May 1
Here at Si Belle® we are rather partial to a bit of boho style.  Synonymous with floaty, sweeping silhouettes, it is a look that is romantic and effortlessly chic – just perfect for long summer days.  We think everyone should have a bit of boho in their life.  Here is our guide to adding a bit of casual and carefree to your wardrobe!
With wardrobe staples including floaty maxi dresses, oversized blouses and tunics there is a boho garment out there to appeal to virtually everyone.  Boho style has typically favoured a palette of earthy tones – brown, camel, deep burgundy and earthy green.  However, there is a current trend towards using bold colours combined with the signature prints and paisleys that boho style is known for.
Whether you are a hardcore boho fan, a "boho part-timer" or just a slightly ethereal dresser, we have put together our thoughts on the must have boho staples which you will soon wonder how you did without.
Maxi Skirt
A really fantastic maxi skirt is a piece that you will turn to over and over again. The best ones are simple, block-coloured, and not too voluminous, as they are the easiest to build outfits from.  Maxi skirts look great with a T-shirt or vest, gladiator sandals and finished off with your hair in a messy bun.  Maxi skirts are super versatile so they look equally great paired with a v-neck, and large floppy sun hat – gorgeous.
Tunics
Tunic tops have long been associated with bohemian style and, whilst the popularity of peasant tops has waned, embroidered tops still fit the bill.  If your taste is for more toned-down boho then a basic t-shirt or shirt type tunic could be just up your street.  So versatile, tunics look equally great with skinny jeans, flared jeans or leggings.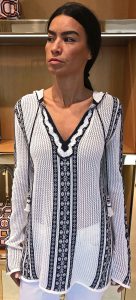 Maxi Dress
Printed maxi dresses retain their place as boho's hottest items.  Designers with their finger on the pulse have created geometric or nature-inspired prints for this season.  Dress your maxi dress up with chunky jewellery and wedge heels for a super sexy date night look or dress it down by pairing it with a denim jacket.

Favoured accessories to complete the boho look include slouchy or fringed suede ankle boots but for the summer, gladiator sandals or wedge heels are our footwear of choice, perfect to wear with your boho dress, skirt or jeans.  Accessorise a maxi printed sundress with a simple straw sun hat, sandals, chunky bracelets, an oversized bag and large sunglasses for the perfect summer outfit.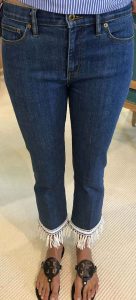 Some of the labels we stock at Si Belle® express the very best of bohemian chic through their collections.  Mixing and matching across different brands we can offer you inspiration in spades for your boho look.
One such brand is LA-based fashion label, Hale Bob, which expresses the very epitome of bohemian style.  Collections abound with vibrant floral and paisley prints, embellished flirtatious dresses and feminine tunics, all created from the finest cottons and silks.  Founded by fashion designer and artist Daniel Bohbot, Hale Bob designs are all completely exclusive and evocative of the lifestyle of the LA elite.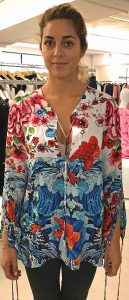 So pop into our Tarporley boutique , browse through our stunning Spring Summer collection and follow in the footsteps of boho stylistas like Kate Moss, Eva Longoria, Heidi Klum and Cameron Diaz and express your boho side!
X