March 31
As you know, here at Si Belle® we never like to stand still and so we are always on the look-out for exciting new brands to add to our collection.  We are delighted to introduce an array of sensational new labels for the Spring/Summer 2018 season.  We are sure that you will adore them as much as we do.
Sibel and her team know their customers inside out.  This means that they instinctively know whether a label or collection will be right for our Tarporley boutique and its clientele.  This season we have no less than eight new lines in our collection and in many cases we are the only stockists in the country outside of London. 
We would like to introduce you briefly to a few of these new brands, but rest assured we will be telling you more about them over the coming season.
One brand that we are especially thrilled to be working with is Tory Burch.  This American brand is very exciting and really embodies the spirit and style of its chief designer and namesake.  An eclectic collection, Tory Burch clothes are known for bold colour and vibrant prints and are inspired by the worlds of art, music and travel.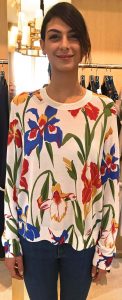 Tory Burch is the very epitome of bohemian chic and is one of THE designers to watch.  We could not be more proud to be the only independent boutique in the UK to be stocking Tory Burch!
The new labels Si Belle® have introduced for S/S 2018 are all very different but have a common theme that links them; every brand is exciting, bursting with its own distinctive personality and offers a refreshing modern perspective on femininity.  If you are looking for effortless, classic styles reinvented with a contemporary twist, St.John will not disappoint. 

If you are looking for a statement dress, whether for the day or evening, PH 15 and Paule Ka will exceed expectations, offering edgy sophistication, once again delivering a modern take on classic styles. 

There is always a time and a place to express your more frivolous side and our new brand M.Missoni allows you to do just that as you will be charmed by looks that are cool, casual and carefree.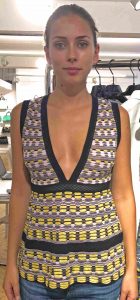 Another jewel in the crown is Australian label, Thurley which creates perfectly feminine clothes.   From extravagant evening gowns to cute beach cover-ups, every garment from this fabulous label is designed with intricate detailing which will delight.
We always encourage our customers to express themselves and their personality through their style.  The last two new brands that we would like to introduce to you are the embodiment of expression through style.  With their bold, innovative designs, Sportmax like to set trends rather than follow them.  The SS collection is full of gutsy personality and sees a focus on clean lines and structure.  Perseverance London is equally fearless, expressing a tough, modern attitude that we love.  Relatively speaking they are the new kid on the block, having only launched with the SS 2016 season, yet Perseverance London are already making serious waves in the fashion world.

Now you can see why we are so enthusiastic about the upcoming season's collection at Si Belle®.  Where else outside London can you find all of these labels under one roof?  Sibel will be delighted to welcome you into the boutique.  So please pop in for a browse or to find something specific either for a special occasion or just to make you feel a million dollars!