March 25
Today is the official start of British Summertime and the Easter Bank Holiday weekend is just around the corner.  Finally Spring has arrived, although be warned, a return to wintry weather has still not been ruled out!   
So with the great British weather being its usual erratic self, the upcoming Easter Bank Holiday weekend is likely to pose a few dilemmas, Notable amongst them is what to do?  And what to wear?  The key to feeling suitably and confidently dressed will be to have layering items to hand no matter what your plans are.
If your Easter weekend itinerary is still up for debate, we have put together some ideas of things to do in our wonderful county over the long weekend, together with a sprinkling of outfit suggestions so that, whatever the weather, you can dazzle the entire weekend through.
As you know Si Belle® does not succumb to whimsical fashion trends.  We prefer to deliver timeless style that is an outward expression of your personality and confidence.  We want Spring fashion to be summed up in four words – Feel Fabulous Every Day. 
Whether your vision of the perfect Easter weekend consists of Easter egg hunts through the great outdoors, fine dining in one of the region's wonderful restaurants, or cosying up at home with a good book and a glass of wine; one thing is assured, you can look chic, stylish and in control whilst you are doing it!
We have chosen a few items from our curated Spring collection which will have you dressing to impress for pretty much any Easter occasion.  If you are planning a walk or want a bit of Easter egg fun why not join the Delamere Forest Easter Hunt or the Easter adventure quest at Beeston Castle.  Ditch the wellies and elect for ankle or long boots instead – the perfect accompaniment to well-fitting jeans and a bright top like this divine print top from Hale Bob.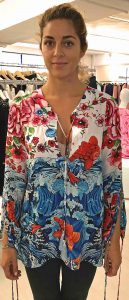 Layer with a tailored jacket to carry off an effortlessly stylish outdoors look.  If you prefer city surroundings for your Easter fun, head into Chester to enjoy Easter in the City street entertainment or make for the racecourse for the Food,Drink and Lifestyle Festival.  Team your jeans with wedges and an oversized woven basket bag to complete a casual but chic Easter Bank Holiday outfit.
If your Easter weekend is more likely to consist of attending the Easter sunrise church service followed by lunch at a local eatery, then we suggest opting for a super flattering dress to make you feel uber feminine.  We have a host of delightful dresses in the boutique for this season – dresses that create feminine silhouettes, guaranteed to make you feel special.  From unexpected print and colour combinations, to bold monochromes and soft pastels, just choose one to match the occasion and your mood.
This simple but stylish take on a shift dress from Elisabetta Franchi is a perfect choice for Easter Sunday. 
Stand out from the crowd with this exquisite tangerine and black dress with matching cardigan from M.Missoni

Let's not forget that Easter marks the beginning of the Little White Dress season and we think you will love this cute lace midi dress from Laurel

If you have no intention of moving further than your back garden (weather permitting) where you may be found reclining with a glass of rose for the duration of the long weekend then we salute you.  Slouchy separates create the perfect "me time" outfit.  Equally, a shift or shirt dress is super comfortable and easy to wear.  This shirt dress from Tory Burch looks unquestionably and effortlessly stylish, meaning you can take any impromptu visits in your stride.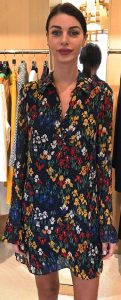 So whatever the weather may throw at us this Easter, dress beautifully, live joyously and have fun! X