March 13
We had a wonderful day last Thursday hosting guests at a ladies' lunch which was held at the stunning 5 Star Chester Grosvenor Hotel.  The event was in aid of Hope House Children's Hospice.  So, whilst indulging in 5 star luxury with our guests, we were also able to support Hope House's vital work in helping terminally ill local children and their families.
Retail Village
Sibel and Gill met their guests at the hotel just before midday and enjoyed a glass or two of fizz with them before the lunch.  We then made our way to the Westminister Suite where the meal and afternoon's entertainment was taking place.  Once in the anteroom, guests at the ladies' lunch were treated to a slice of retail heaven as they perused pop up stands.  A variety of local businesses were represented, offering a range of products and services from cakes to cosmetic dentistry.  Si Belle® had a stand showcasing some key pieces from our Spring/Summer collection – divine dresses which are making us yearn for those long sun-filled days, whilst another Tarporley boutique, Hoity Toity, displayed some of their statement piece designer shoes. 
The Westminster Suite
The Westminster Suite itself was beautifully dressed and displays of orchids and long-life roses adorned the tables.  The two hundred or so guests were greeted by Liz Southall from Redshift community radio.  A warm and welcoming host, Liz introduced the event and the charity, highlighting the wonderful work they do.
Hope House Hospice
Throughout the afternoon no one lost sight of the reason why we were attending the ladies' lunch, which was to support Hope House Hospice.  Offering invaluable respite and end of life care, as well as counselling and bereavement support, Hope House is quite literally a lifeline to those who need it.  It was humbling to be part of an event supporting so worthy a cause and to add to its significance, the event took place on International Women's Day.  It was uplifting to be surrounded by so many vibrant, dynamic and strong women.  Hope House left notelets on the tables and encouraged guests to write down the name of the woman who most inspired them.  These ranged from celebrities who have carved out wonderful careers for themselves, such as Beyonce, to women closer to home such as one lady's Grandmother who had worked at Bletchley Park.
The Raffle
Si Belle® was proud to play an integral part in such an uplifting event and we were only too delighted to sponsor both the drinks reception and the fabulous entertainment from singer Samantha Murphy.  We also gifted a Marc Cain handbag as one of the raffle prizes.  The prize draw took place after the meal and Sibel was invited on stage to talk about Si Belle® and also to help draw the winning tickets.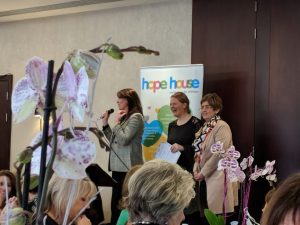 In Sibel's impromptu speech she extolled the virtues of our wonderful village, Tarporley, spoke about the amazing international brands we stock at Si Belle® and wished everyone Happy International Women's Day.  She had guests in peels of laughter as she regaled them with anecdotes and I am sure there will be a number of new visitors to Si Belle® to see what all the fuss is about.
If you attended the ladies' lunch we would like to thank you for your warm reception and wonderful company and Sibel would be delighted to welcome you to Si Belle® whenever you are in Tarporley.