April 25
If indulging in the opulence of the glossy fashion magazines is one of your guilty pleasures, then you may well already be familiar with the M.Missoni Spring/Summer advertising campaign.  Styled to create an air of enchantment, model Emm Arruda is portrayed as a contemporary mermaid, softly feminine and yet unconventional.  The photography for the campaign offers a glimpse of a fabulous collection that charmed Sibel when she was buying for this season.  Once she had seen it, she knew it would be a great addition to the Spring Summer range at Si Belle®.
With its colourful, cool and fresh approach to fashion and design, the M. Missoni brand has always been one to watch.  However, we think their latest collection takes their design credentials to a new level.  Prepare to see soft, fluid shapes that cleverly evoke the spirit of the sea.  This is no accident, the entire collection is themed around elements of the ocean.  The fabrics, colours and styling that are used are all designed to resemble the ebb and flow of the sea.  Picture tunics and slip dresses in pastel tones made out of chiffon, silk, satin, lace and organza.  Already you can start to visualise how the marine theme has been brought to life by this stylish brand.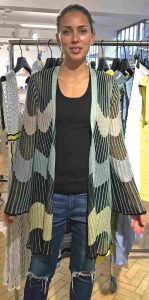 If you know M.Missoni, rest assured that you will find plenty of the label's staples in the Spring/Summer collection – cute knitwear and distinctive woven items.  The signature M.Missoni zigzag design features throughout the collection but in a more rounded, softened shape, giving the impression of the surface of the sea.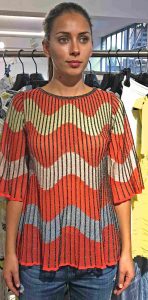 You will also find the sea life theme expressed more literally in some of the designs with mermaids, scales, shells and starfish adorning certain pieces in the collection.

The collection features mini and midi dresses, as well as oversized blouses and tunics but the key element throughout the collection is movement.  Some garments create movement through their length, some through flared width; whilst others do so with the clever use of smock stitching, raised waists or with a hint of an empire silhouette.

The M.Missoni Spring Summer 2018 collection feels ethereal, soft and deliciously feminine.  Sibel suggests casual accessories to complement the clothes – multi strap platform shoes and oversized bags.  We have a good number of M.Missoni items available in our boutique in Tarporley.  So pop in for a browse, we think you will be delighted when you see what M.Missoni has to offer this season.
X